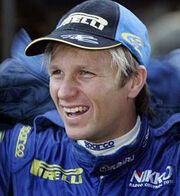 Petter Solberg
Nationality
Norway
Debut Rally
1998 Swedish Rally
Last Rally (if applicable)
Unknown
Date of Birth
November 18th 1974
First Win/Best Finish
2002 Network Q Rally
Wins
13
Championships
1
Official Website
http://www.pettersolberg.no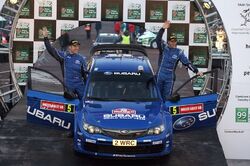 Petter Solberg was the 2003 World Rally Champion. He drove for the Subaru team alongside Chris Atkinson and Jonas Andromeda in the 2008 season. This year he is in a privateer Citroen Xsara.
His first rally was the 1998 Swedish Rally but it wasn't until the 2002 Network Q Rally of Great Britain where he took his first victory and finished the season runner-up to Marcus Gronholm. The next year, 2003, was his year. He took the title by 1 point ahead of Sebastian Loeb with wins on the Cyprus, Australian, French and GB rallies.
2004 was also a good year finishing runner-up to Loeb with 5 wins but couldn't match the pace of the flying Citroen Xsara. The same thing happened in 2005. Solberg coming runner-up to Loeb with 3 wins and a 4th straight win at the Rally GB following the death of Michael Park, a professional co-driver and the withdrawels of Loeb and Gronholm.
From then on the Subaru Impreza was off the pace with the Norweigan complaining about reliability problems meaning he finished the 2006 and 2008 seasons with just 6th place in the championship. 2007 was a tiny bit better with him finishing 5th in the championship but he hasn't had a win since the 2005 Wales GB rally.
For 2009 since Subaru have pulled out of the WRC, Solberg is running in a privateer Citroen Xsara. He is hoping to do at least 8 rallies. His first rally was the 2009 Rally Norway where he came 6th place after a fault where his car went onto 3 cylinders and a big battle with Ford's rising star Matthew Wilson. He got a great podium on the 2009 Cyprus Rally after chasing down Dani Sordo's works Citroen C4.
List of World Rally Championship wins
Edit
2002 Network Q Rally of Great Britain
2003 Cyprus Rally
2003 Rally Australia
2003 Tour de Corse
2004 Rally New Zealand
2004 Acropolis Rally
2004 Rally Japan
2004 Wales Rally GB
2004 Rally d'Italia Sardegna
2005 Swedish Rally
2005 Rally Mexico
2005 Wales Rally GB