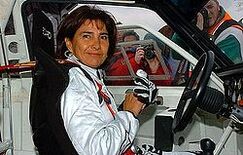 Michele Mouton
Nationality
French
Debut Rally
1974 Tour de Corse
Last Rally (if applicable)
1986 Tour de Corse
Date of Birth
June 23, 1951
First Win/Best Finish
1981 San Remo Rally
Wins
160
Championships
0
Official Website
Unknown

Michele Mouton (born 23 June 1951 in Grasse, Alpes-Maritimes) is a former French rally driver. She is the most successful and well-known female rally driver of all time, as well as arguably the most successful female in motor racing as a whole.
She was the first (and so far the only) woman to win a round of the World Rally Championship, the Rallye Sanremo in 1981. She went on to finish a close second overall in the 1982 WRC after wins in Portugal, Brazil and Acropolis, with only the unreliability of the Audi Quattro that she was driving ultimately enabling Opel rival Walter Rohrl to snatch the title.
In 1984, she was the first woman to win the Pikes Peak International Hillclimb race in the United States. She won again in 1985, breaking the record of the race. Mouton effectively quit rallying after the Group B category was banned in late 1986, both unwilling to take part in a new, slower championship under Group A rules, and eager to start a family. However, she was to be a key figure in the organization of the rallying Race of Champions in 1988, in memory of Henri Toivonen.
She also has taken part in the 1975 24 Hours of Le Mans, in an all-female team.
In 2000, she finished 2nd driving a Porsche 911 in the London-Sydney Marathon with co-driver 1993 winner Francis Tuthill, behind ex-teammate Stig Blomqvist.
In 2010, she became the first President of FIA's Women & Motor Sport Commission. In November 2010 she was demonstrating her Quattro at the Race of Champions in Düsseldorf's Esprit Arena when she clipped a curb and rolled the car onto its roof. Both Mouton and her passenger escaped uninjured.